Zita's Background
Zita's Professional Bio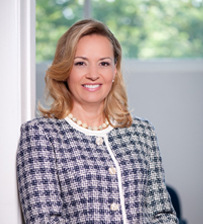 Zita is an Executive Coach and HR Consultant based in Miami, FL. She served as Human Resources Manager at General Electric for eight years where her work included both generalist and organizational development activities such as strategic planning, management assessment and development, training and employee surveys. She was also leading new acquisition and integration activities as well as several change management projects.
Zita has been in the coaching field for 7 years and currently serves as the President of the South Florida Charter Chapter of the International Coach Federation (ICF). Her signature New Leader Success Acceleration Programs help executives moving into a new position to become effective and successful from Day 1. Her business is PebbleJam Leadership Coaching and Consulting (www.pebblejam.com). She can be reached at
Zita's Personal Bio
Zita has always liked to help people. When she was in 7th grade, a classmate came to her for advice and she helped her negotiate a better grade with the art teacher. Later she became a teacher herself and worked as an assistant professor at Eotvos University where she researched what she enjoyed most : linguistics. During Zita's doctoral studies she served as a freelance journalist and radio reporter and asked incisive questions of famous Hungarian actors, movie and theatre directors and university professors.
Having received an irresistible offer from General Electric in Hungary she became a Human Resource Manager. She also served as a "Cultural Interpreter" at Budapest Bank assisting with "translating" GE's leadership values and culture into the Hungarian environment and reality. Leading several Change Management as well as New Manager Assimilation Programs, she helped leaders to quickly learn and experience their new environment, their team, and the expectations they faced.
Her move to the US as a company transfer opened her eyes even more into intercultural and organizational differences. People admired Zita's adventurous spirit and her seamless and successful onboarding experience. Her HR generalist and organizational development activities included strategic planning, executive assessment and coaching, training, employee surveys and new acquisition and integration activities.
After leaving the corporate arena as an HR consultant, she shared best practices and advice in the field of leadership development and coaching, performance improvement and change management. While working as a consultant with high position leaders, she often wondered why it is so hard for them to make meaningful changes. She found a great solution in coaching with its built-in accountability.
Through her HR and consulting experience she realized what a key transition point onboarding is in one's career. Now Zita's passion is helping leaders gain awareness of the impact they have on their own lives and on their teams and make conscious and intentional choices. Zita founded PebbleJam (read how she came up with the name in her blog) in 2010. Her New Leader Success Acceleration Programs help executives to be effective and successful from the beginning.
Besides her eight years of GE experience, she has worked with profit and non-profit organizations such as Novartis, Polo Ralph Lauren, Westinghouse, Campbell Soup, CNA Insurance, The Suppers Programs and numerous small business owners as well as individual clients. Her international coaching experience includes the USA, France, Hungary, and Lithuania. She coaches both in English and in Hungarian.
As a life-long learner Zita takes pride in personal development and takes classes or teleclasses 2-3 times each week in both Coaching and HR Management. She is a certified Senior Professional in Human Resources (SPHR), member of the Society for Human Resource Management (Greater Miami Chapter) and the International Coach federation (ICF). She is a licensed provider of the Quantum Endeavor corporate coaching program. She completed her coach training with Coaches Training Institute (CTI) and continues to study with Center for Right Relationships (CRR). Zita is the President of the South Florida Charter Chapter of the ICF. She lives in Miami with her husband and three sons, ages 7, 9 and 10.